http://www.balloonbrilliance.com.au/shop/category/19-air-walkers
Air Walker balloons are large foil balloons that are lightly weighted and sit the floor.
A small amount of movement in the atmosphere will make the Air Walker balloon move around the room.
If you are theming a party or an event and you want to make an instant impression, it's a good idea to start with an Air Walker Balloon.
Some of our favourite Air Walker balloons include Spiderman, Batman, Ironman, Minnie Mouse, Mickey Mouse, Hello Kitty, Teenage Mutant Ninja Turtle, Buzz Lightyear, Paw Patrol, Minion, Dora, Aerial, Cinderella, Sophia, R2D2 and Elmo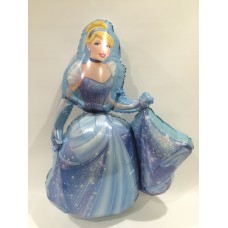 Adding a bouquet of balloons to the hand of any of our Air Walker balloons looks amazing and definitely adds the extra WOW factor to your Air Walker balloon delivery. You could add a bouquet of confetti balloons or a balloon bouquet topped with an age latex balloon, foil message balloon or a foil number balloon to your Air Walker balloon delivery. You could also add a box of chocolates, a bottle of wine or champagne to your Air Walker balloon delivery.
If you are theming a party or celebration its often fun to have bouquets on the tables or on the floor around the room and at the entrance that compliment the colour theme of the Air Walker balloon and the bouquet the Air mWalker balloon is holding.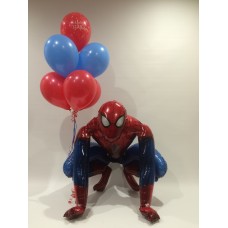 Perhaps you would like to add one of our personalised message balloons to your Air Walker balloon delivery too. The personalised message balloon could be at the top of a balloon bouquet that has been added to your Air Walker balloon or it could be embellished with some mini balloons, confetti, tassels or tulle.
If you would like to add a personalised balloon to your Air Walker bouquet delivery, please call the team at Balloon Brilliance and we will arrange it for you. You may like to have a name or a happy birthday message on one of our foils or bubble balloons.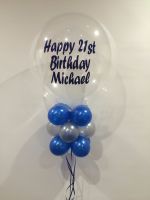 Most air walker balloons stand at least 90cm tall and are life like in size and appearance. They become friends. Its almost sad to send them out because they are adorable, but fun when you deliver them because the person receiving them is so happy when they see a new friend arriving at their front door or office.
You can easily order an Air Walker balloon delivery via our on line "Shop" on the Balloon Brilliance website. Please leave a message in the comments section if you would like to add anything extra to the Air Walker Balloon Delivery or call Balloon Brilliance on 0409 025 052 to discuss your theme and ideas.
http://www.balloonbrilliance.com.au/shop/category/19-air-walkers
Alternatively, you can order via email or telephone, especially if you would like to add other balloon decor such as table bouquets, floor bouquets, an arch, confetti, tulle or tassel balloons, a personalised balloon, a foil number balloon or a message balloon. We will be only too happy make suggestions on what will work with your ideas and theme.