http://www.balloonbrilliance.com.au/shop/category/24-birthday
http://www.balloonbrilliance.com.au/shop/category/20-age
http://www.balloonbrilliance.com.au/floor-bouquets-helium
http://www.balloonbrilliance.com.au/table-bouquets-helium
Every birthday celebration deserves the wonderful impact of beautiful colourful balloons. It doesn't matter whether you are celebrating a first birthday, 13th birthday, 16th birthday, 18th birthday, 21st birthday, 30th birthday, 40th birthday, 50th birthday, 60th birthday, 70th birthday, 80th birthday, 90th birthday or the grand age of a 100th birthday. Balloons will make the birthday person feel extra special and they will add colour, fun and atmosphere to the party or celebration. Your guests will feel alive and ready to party as soon as they arrive at your birthday.
Balloons look fantastic behind a lolly buffet. Balloons can sit on or beside the gift table or cake table. Balloons can frame a dance floor area and look great at the entrance to entice your guests into the birthday party.
Birthday balloons can float on the ceiling at a party and they can be given to children and/or guests when they leave. This is a perfect idea for a children's party.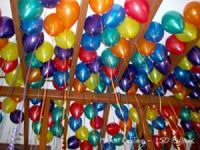 Birthday balloons are a fantastic idea to decorate a table at home, at a venue, a hall or a restaurant. Guests are sure to know where the party is!
Birthday balloons can be made into table bouquets or floor bouquets, arches, sculptures or dance floor canopies.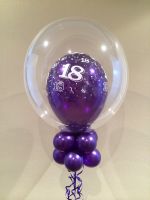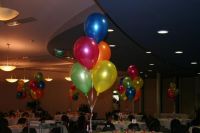 Imagine your guests dancing the night away under a dance floor canopy made by Balloon Brilliance. The colours and themes start with your imagination. Talk to the staff at Balloon Brilliance and let your fantasy dance floor canopy dream come to life.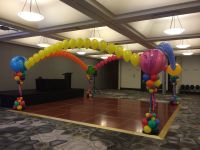 Birthday Balloons and themes are a specialty at Balloon Brilliance. A themed Tinkerbell balloon arch will provide an absolutely awe inspiring entrance for a Disney themed 21st birthday party.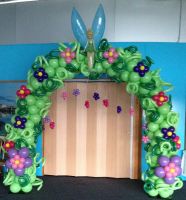 Birthday balloons can suit a theme such as a type of sport or the colours of a sporting theme.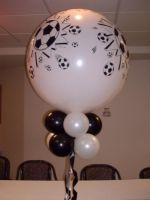 Sculptured numbers provide a statement at a birthday party. It doesn't matter if you are 1 or 100, at Balloon Brilliance, we have frames to suit all ages. Let us sparkle the sculptured birthday balloon numbes for you by adding some party dots. Our sculptured birthday balloon numbers are a great photo backdrop. Just imagine the fun your guests will have popping their faces and limbs in the gaps of the birthday balloon numbers. A person here, a limb there – let your imagination take over and have lots of fun with our sculptured birthday balloon numbers.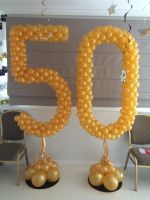 Foil birthday balloon numbers are a fantastic idea to have as birthday balloons so that when guests and family look back at photos they will remember how old the party person was in those photos.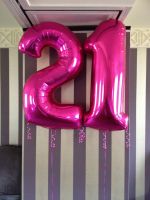 Or why not add a letter to the party birthday balloon theme. Perhaps it is the birthday boy or girl's initial or perhaps the party has a theme "everyone come as something to do with the letter S" for example.
At Balloon Brilliance we love to theme birthday balloons to suit the client's wishes. Mickey Mouse, Minnie Mouse, Spiderman, Batman, The Avengers, Barney, Scooby Doo, Tweety, Peppa Pig, Hello Kitty, Thomas the Tank Engine, Unicorn, Motorbike, Fire Engine, Cars, Tractors, Smurf, Penguins, Flowers, Champagne, Beer, Hawaiian, Casino, Masquerade, Cinderella, Mermaid, Under the Sea, Soccer, Basketball, Football, Tennis, Golf, Hockey, Tennis, Elmo, Farm Animals, Jungle, Pirate, Princess, Tangled, Cinderella, Tinkerbell, Winnie the Pooh, Monsters, Ice Cream, Cake, Dogs, Dinosaurs, Snoopy, Puss In Boots, Madascar, Space Ship, Tiger's, Lion's, Monkey's, Giraffe's, Horse's, Zebra's, Pig's, Cow's Butterflies, Fish, Dolphin's, Octopus, Bird's, Boats, Pinata's, numbers, letters, Stars, Hearts, Bows, Jellybeans, Chocolates.
We can treat your latex birthday balloons with hi-float which is also known as balloon flight extender. This will ensure that your latex balloons last for 2 to 5 days, rather than one day. If your birthday balloons are not treated with balloon flight extender, they will last up to 24 hours. However, they look the best in the first half of their life. The staff at Balloon Brilliance will be happy to treat your helium balloons with hi-float for you if requested for an inexpensive cost.
Latex balloons latex are made from 100% natural latex, not foil or plastic so they are biodegradable.