Every party celebration deserves the wonderful impact of beautiful colourful helium filled party balloons. It doesn't matter whether you are celebrating a first birthday, 13th birthday, 16th birthday, 18th birthday, 21st birthday, 30th birthday, 40th birthday, 50th birthday, 60th birthday, 70th birthday, 80th birthday, 90th birthday or the grand age of a 100th birthday party balloons will add fun, atmosphere and happiness to any party.
If you are celebrating a birthday, party balloons will make the birthday person feel extra special and they will add colour, fun and atmosphere to the party or celebration. Your guests will feel alive and ready to party as soon as they arrive at your party and see all those wonderful colourful party balloons.
Helium party balloons look fantastic behind a lolly buffet. A helium balloon bouquet can sit on or beside the gift table or cake table. Helium balloons can frame a dance floor area and look great at the entrance to entice your guests into the birthday party.
The most popular way to decorate a party, celebration or corporate event is o have helium party balloons floating on the ceiling with cascading ribbon attached to them. When floating on the ceiling, helium balloons provide a magical feeling. Party balloons can be given to children and/or guests when they leave the party. Helium party balloons on the ceiling are a perfect idea for a children's party.
Why not try our larger sized helium party balloons. They come in the following sizes. 11 inch, 16 inch, 17 inch round, 24 inch, 30 inch and 3foot.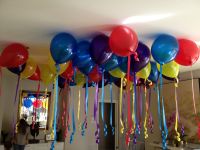 Party balloons are a fantastic idea to decorate a table at home, at a venue, a hall or a restaurant. Guests are sure to know where the party is!
Party balloons can be made into table bouquets or floor bouquets, arches, sculptures, dance floor canopies or a delivery bouquet.
Party balloons can be themed to suit any occasion such as a sporting event or the colours to suit a sporting theme. Whether you need soccer party balloons, basketball party balloons, hockey party balloons, tennis party balloons, rugby party balloons, golf party balloons, baseball party balloons or tennis party balloons, Balloon Brilliance will be able to help you decorate your party with party balloons to suit your sporting theme.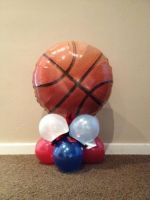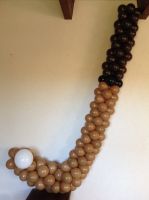 Helium filled party balloons in the shape of foil numbers are a fantastic idea to so that when guests and family look back at photos they will remember how old the party person was in those photos.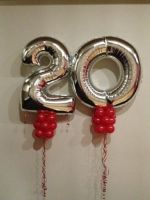 At Balloon Brilliance we have a huge range of party balloons to suit your special celebration. Mickey Mouse, Minnie Mouse, Spiderman, Batman, The Avengers, Barney, Scooby Doo, Tweety, Peppa Pig, Hello Kitty, Thomas the Tank Engine, Unicorn, Motorbike, Fire Engine, Cars, Tractors, Smurf, Penguins, Flowers, Champagne, Beer, Hawaiian, Casino, Masquerade, Cinderella, Mermaid, Under the Sea, Soccer, Basketball, Football, Tennis, Golf, Hockey, Tennis, Elmo, Farm Animals, Jungle, Pirate, Princess, Tangled, Cinderella, Tinkerbell, Winnie the Pooh, Monsters, Ice Cream, Cake, Dogs, Dinosaurs, Snoopy, Puss In Boots, Madascar, Space Ship, Tiger's, Lion's, Monkey's, Giraffe's, Horse's, Zebra's, Pig's, Cow's Butterflies, Fish, Dolphin's, Octopus, Bird's, Boats, Pinata's, numbers, letters, Stars, Hearts, Bows, Jellybeans, Chocolates.
Party balloons can be made arranged and attached to a weight for a table. You can have a printed party balloon at the top of the helium party balloon bouquet or you can have all of the party helium balloons printed. Latex helium balloons come in an enormous range of colours. Take a look at the colour chart on our website to help with your colour choice.
http://www.balloonbrilliance.com.au/colour-chart
Party balloons can be personalised with a logo, message or name. Try our helium deco bubble party balloons to personalise your celebration. Our helium filled deco bubble party balloons can be embellished with feathers, confetti, tassels and garlands. This is a perfect and totally popular idea for a birthday party or Christening, Naming Day, Baptism and First birthday. Deco bubble helium party balloons are long lasting. Your guests will be enjoying the memory of the party long after it has finished.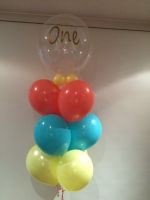 Feathers look so pretty in a deco bubble helium party balloon. Personalising the party balloon and adding a specialised balloon tassel with really make the celebration one to remember.
Party balloons filled with confetti are extremely popular. Let Balloon Brilliance add some tassels and a bow to embellish your beautiful deo bubble party balloons. Imagine a room with one of these beautiful helium balloon deco bubble party balloons on each table. WOW!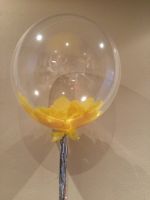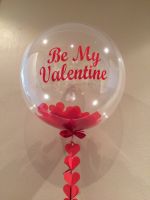 Party balloons can be made into a floor bouquet and attached to a weight. They are great to have at the entrance or around the room. Party balloon floor bouquets can contain a mix of latex balloons and foil star, heart or character balloons as well as deco bubble balloons.
Party balloons can be made into a topiary shape and attached to a mini topiary base. This is a fantastic alternative to a traditional bouquet of helium filled party balloons. Try it in a rainbow of colours, or your corporate colours. Add some printed latex party balloons to suit your theme as well such as a printed party balloon with Happy Christening printed on it or a party balloon with 40 printed all over it. The possibilities are endless.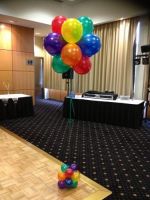 Helium party balloons made into a floor bouquet can be plain colours, the top helium party balloon can be printed or all of the helium party balloons can be printed. At Balloon Brilliance we suggest having at least 7 or 10 helium filled party balloons in a floor bouquet as they look full and fun.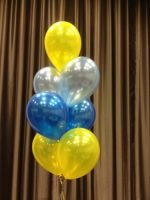 A party balloon floor bouquet with a balloon foil star on top adds an element of interest to a party balloon floor bouquet. You may want to have a themed foil party balloon or a foil heart party balloon at the top of the balloon bouquet.
A large helium party balloon in the shape of a star, heart or circle can be personalised with a message. Embellishing the helium party balloon with a collar of mini party balloons or party balloon tassels will make your helium party balloons stand out and definitely add the WOW FACTOR!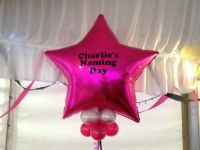 It can be a fun idea to add something interesting at the base of your helium party balloon bouquet such as a mini balloon base and some twisted party balloon flowers.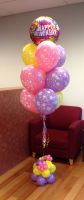 A party balloon Disney princess theme is a favourite at Balloon Brilliance. An air filled party balloon column with a Disney princess party balloon on top is just one of the themed ideas we have at Balloon Brilliance. The themed party balloon at the top of the air filled balloon column can be changed to suit your party.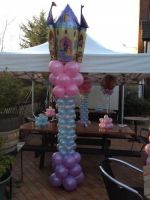 Party balloon numbers are close to 2 meters high and provide a HUGE impact at a party, launch or corporate event. The party balloons are attached to a frame in the shape of the number you need. The party balloon numbers with be the main focal point because of the WOW Factor they bring to the celebration. Party balloon numbers can be embellished with party dot sparkling lights.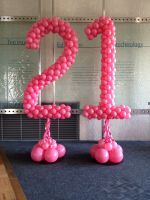 Party balloons work can frame an area with a party balloon arch such as a String of Pearl Arch. Your guests will love walking under a party balloon arch made as they enter the party or celebration area. A party balloon arch is fantastic over a lolly buffet, a dance floor, and a photo area. Everyone loves getting their photo taken under a party balloon arch ☺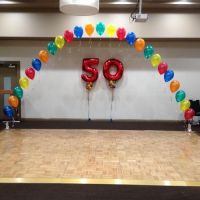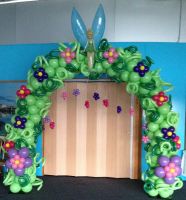 Party balloons can be filled and arranged by the team at Balloon Brilliance or you can hire a party balloon DIY Kit from us and "Do it Yourself". A helium party balloon DIY Kit contains balloons, ribbons, clips, hire of the helium cylinder and regulator. A party balloon helium DIY balloon kit comes in a 50 size, a 100 size, a 300 size and an 800 size. A staff member at Balloon Brilliance will teach you how to use the party balloon helium balloon DIY Kit which also comes with instructions. You are able to choose from the range of colours on our website. We do not charge extra for pearl or metallic balloons in our helium party balloon DIY Kits. We can include latex agate and printed party balloons for an additional cost. Please talk to the staff at Balloon Brilliance about this facility.
http://www.balloonbrilliance.com.au/diy
Take a look at the Balloon Brilliance website to see the colours of our latex party balloons.
http://www.balloonbrilliance.com.au/colour-chart
At Balloon Brilliance we can treat your latex birthday party balloons with hi-float which is also known as balloon flight extender. This will ensure that your latex party balloons last for 2 to 5 days, rather than one day. If your birthday party balloons are not treated with balloon flight extender, they will last up to 24 hours. However, they look the best in the first half of their life. The staff at Balloon Brilliance will be happy to treat your helium party balloons with hi-float for you if requested for an inexpensive cost.
Latex balloons latex are made from 100% natural latex, not foil or plastic so they are biodegradable.