http://www.balloonbrilliance.com.au/special-effects
A balloon drop contains a long net filled with balloons. The balloon drop nets can be filled with a mix of bright colourful balloons or the balloon drop net can be filled with balloons that match your corporate colours.
The balloon drop net can contain balloons that are all one size and type of balloon or the balloons in the balloon drop net can be a mix of different sized balloons or a mix of latex and foil balloons.
A balloon drop net is sewn in a particular fashion to ensure a cord can be pulled at a particular time of your choice so that the balloons fall from the ceiling. The cord is tied off out of the way until the time comes for it to be pulled and the balloons released from the balloon drop net.
From a professional point of view, assembling a balloon drop is a really exciting project to put together. From a guests point of view, its so much fun to be under the balloon drop net when the cord is pulled and the balloons fall from the balloon drop net.
When your guests walk into a room and see a net (or more than one net) filled with balloons they know something fun is in store.
A balloon drop is often released just after an important announcement is made at a corporate event.
A balloon drop is popular at a wedding. Often the balloon drop cord will be pulled as the newly married bride and groom dance their first dance as husband and wife.
A balloon drop may be released at the stroke of midnight on New Year's Eve as the guests hover underneath the balloon drop and bounce the balloons around as they dance.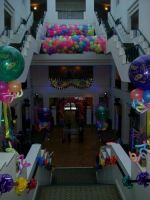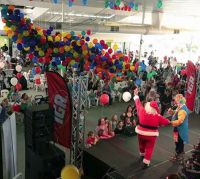 Take a look at the Balloon Brilliance website to see the colours of our latex party balloons.
http://www.balloonbrilliance.com.au/colour-chart
Latex balloons latex are made from 100% natural latex, not foil or plastic so they are biodegradable.