http://www.balloonbrilliance.com.au/decor
Every party celebration deserves the wonderful impact of beautiful colourful balloon decor. Balloon decor includes entrance balloon decor, table balloon decor, stage balloon decor, wedding table balloon decor, dance floor balloon decor, ceiling balloon decor and room balloon decor. If you are celebrating a birthday balloon decor will make the birthday person feel extra special and the balloon decor will add colour, fun and atmosphere any party, corporate event, launch or celebration.
A Balloon Entrance Arch is the perfect balloon decor to welcome your guests into your party or corporate event. Nothing screams "come on in and enjoy the celebration" more than a balloon decor entrance arch.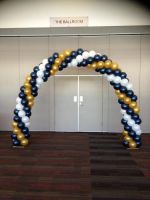 http://www.balloonbrilliance.com.au/arches
Just imagine how excited the ADFA staff and guests would be when they entered their event through an ADFA castle balloon decor entrance. This type of balloon decor entrance can be adapted to suit any theme.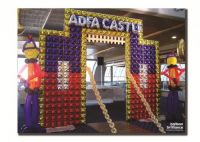 http://www.balloonbrilliance.com.au/decor#!adfa_castle
A Fairytale Princess Carriage is the most wonderful balloon decor display to have over a cake table or a gift table at a Wedding or Fairytale themed celebration. A balloon Fairytale Princess Carriage is a truly magical addition to any Fairytale theme or princess theme. A Balloon Fairytale Princess Carriage makes a spectacular photo display and the perfect photo backdrop for Wedding speeches.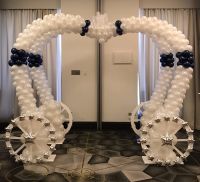 Air filled balloon decor columns are a great idea to have at the entrance and around the room. They show guests where they need to enter the function or party and they give a warm welcome and set the theme. Air filled balloon decor columns can be made using fun colours or corporate colours. Air filled balloon decor columns can have a foil star on top. They can have a themed foil balloon or a giant jumbo 3 foot balloon on top.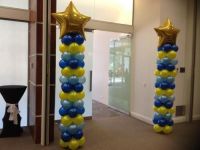 http://www.balloonbrilliance.com.au/floor-bouquets-air
Themed helium floor balloon decor columns are popular for the entrance of a function. If you are having a casino theme, why not have an array of casino helium filled balloons as your entrance balloon decor?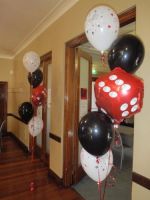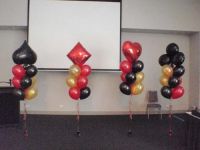 http://www.balloonbrilliance.com.au/floor-bouquets-helium#!casino_floor_bouquets
Balloon decor comes together when you incorporate entrance balloon decor, table balloon decor and room balloon decor. A tropical themed event can include foil bird balloons, foil sun balloons, balloon decor palm trees, hula ladies and tropical printed latex balloons.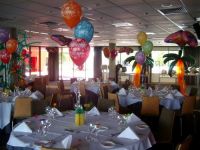 A balloon decor arch looks fantastic behind a bridal table.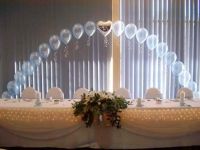 Our stars of success balloon decor frame a staging area beautifully. They really draw your attention to the main focal point of the room or venue. Framing an area with balloon decor lets your guests know that something important will happen in that area.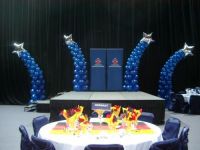 http://www.balloonbrilliance.com.au/floor-bouquets-air#!stars_of_sucess
Balloon decor in the form of a dance floor canopy will get your guests up and dancing. Whether its a corporate event, a wedding, party or school formal its the type of balloon decor that will be remembered as being part of a fun time.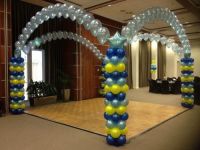 Add some colour to the dance floor with our balloon decor dance buddies and dance dudes. Dance with them and make some fun friends. Our balloon decor balloon buddies take on a life of their own. Pop one on your shoulder and he will stay there as you chat with your friends as though he is part of the conversation too. Give each one of our balloon decor balloon buddies a name of their own and have some fun with them.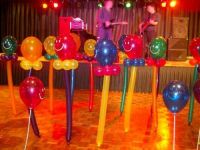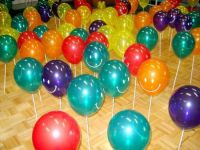 http://www.balloonbrilliance.com.au/dance-floor-canopies#!buddies_and_dudes
The most popular way to decorate a party, celebration or corporate event is to have helium balloon decor party balloons floating on the ceiling with cascading ribbon attached to them. When floating on the ceiling, balloon decor helium balloons provide a magical feeling. Why not try our larger sized helium balloon decor balloons. They come in the following sizes. 11 inches, 16 inches, 17 inches round, 24 inches, 30 inches and 3 foot.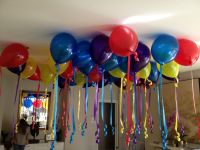 http://www.balloonbrilliance.com.au/helium-ceiling-balloons#!16_inch_helium_ceiling
Air filled balloon foil stars on the ceiling are terrific balloon decor. They provide an atmosphere to the room and can be hung as low or high as you like. Air filled balloon decor which is hung from the ceiling is useful when there isn't a lot of room on the table or within the floor space of the room. They still give the effect of balloon decor but are out of the way too. If a ceiling is not suitable for helium balloons, air filled balloon ceiling decor is the way to go.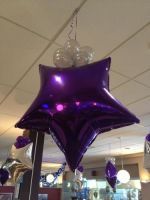 The most spectacular ceiling balloon decor you can have at a function with a high ceiling is a balloon drop. A balloon drop contains a long net filled with balloons. The balloon drop nets can be filled with a mix of bright colourful balloons or the balloon drop net can be filled with balloons that match your corporate colours.
A balloon decor balloon drop is often released just after an important announcement is made at a corporate event. A balloon decor balloon drop is popular at a wedding. Often the balloon drop cord will be pulled as the newly married bride and groom dance their first dance as husband and wife. A balloon decor balloon drop may be released at the stroke of midnight on New Year's Eve as the guests hover underneath the balloon drop and bounce the balloons around as they dance.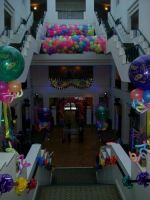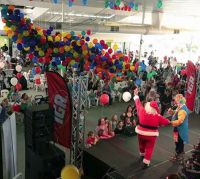 Helium party decor balloons made into a floor bouquet can be plain colours, the top balloon decor helium party balloon can be printed or all of the helium party decor balloons can be printed. At Balloon Brilliance we suggest having at least 7 or 10 helium filled party balloons in a floor bouquet so that they look full and fun.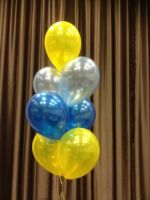 A party balloon decor floor bouquet with a balloon foil star on top adds an element of interest to a party balloon floor bouquet. You may want to have a themed foil party decor balloon or a foil heart party decor balloon at the top of the balloon bouquet.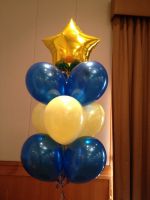 http://www.balloonbrilliance.com.au/floor-bouquets-helium#!9_Latex___a_Foil_Star
A large helium party decor balloon in the shape of a star, heart or circle can be personalised with a message. Embellishing the helium party decor balloon with a collar of mini party balloons or party balloon tassels will make your helium party decor balloons stand out and definitely add the WOW FACTOR!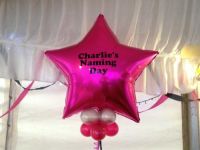 A party balloon decor Disney princess theme is a favourite at Balloon Brilliance. An air filled party balloon decor column with a Disney princess party decor balloon on top is just one of the themed ideas we have at Balloon Brilliance. The themed party decor balloon at the top of the air filled balloon decor column can be changed to suit your party theme.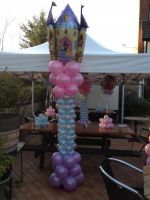 http://www.balloonbrilliance.com.au/floor-bouquets-air#!disney_princess_column
Balloon decor can be themed to suit your party, corporate event or launch. Contact the team at Balloon Brilliance to make your themed balloon decor ideas come to life. We enjoyed making a hockey stick for one of our clients who was holding a hockey themed balloon decor party for her brother.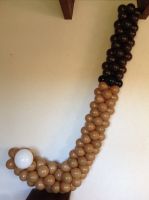 Party balloon decor numbers are close to 2meters high and provide a HUGE impact at a party, launch or corporate event. The party decor balloons are attached to a frame in the shape of the number you need. The party balloon decor numbers with be the main focal point because of the WOW factor they bring to the celebration. Party balloon decor numbers can be embellished with party dot sparkling lights.
A party balloon decor themed arch is open to your imagination. Balloon decor to suit a Tinkerbell garden theme makes for a magical party. Adding embellished balloon decor to your arch makes it personal to your themed event.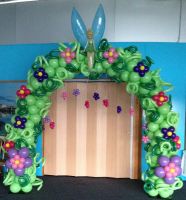 Take a look at the Balloon Brilliance website to see the colours of our latex party balloons.
http://www.balloonbrilliance.com.au/colour-chart
Latex balloons are made from 100% natural latex, not foil or plastic so they are biodegradable.