http://www.balloonbrilliance.com.au/weddings
http://www.balloonbrilliance.com.au/shop/category/34-wedding
A wedding can truly be enhanced with the wonderful impact of beautiful colourful helium filled balloons. Wedding balloons will add colour, fun and atmosphere to the wedding celebration. Your wedding guests will feel alive and ready to party as soon as they arrive at your wedding and see lots of beautiful wedding balloons.
3 foot, giant or jumbo helium balloons look fantastic behind a lolly buffet and a gift table at a wedding.
http://www.balloonbrilliance.com.au/weddings#!3_foot_for_the_gift_table
Giant, jumbo, 3 foot balloons are really popular for wedding photos. Brides and bridesmaids love holding these huge balloons which can have tassels attached. The tassels look amazing as they float against the breeze in wedding photos.
A wedding aisle can be lined with 3 foot, giant jumbo wedding balloons.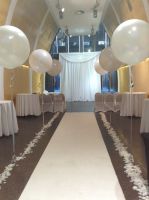 Wedding balloons can frame a dance floor area. You could have floor bouquets or a dance floor canopy to emphasise where the wedding dance fun will happen.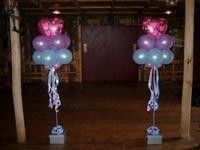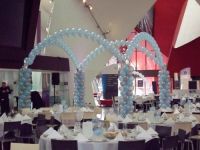 Single floating balloons on the ceiling with cascading ribbon under them will add a magical touch to a wedding. Just imagine them floating on the ceiling above the wedding dance floor.
http://www.balloonbrilliance.com.au/decor#!helium_ceiling_50
A balloon entrance arch at a wedding will entice your guests into reception area. They will love walking under it. Alternatively, the wedding balloon arch can be in an area for the bride and groom to walk through it as they enter the reception as husband and wife for the first time. The wedding balloon arch could have ribbon from one side to the other for the bride and groom to cut as they enter their wedding recption.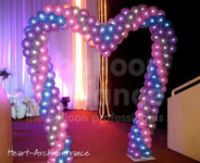 Our helium filled deco bubble balloons can be embellished with feathers, confetti, tassels and garlands. This is a perfect idea for a wedding table centrepiece. Deco bubble helium balloons are long lasting. Your guests will be enjoying the memory of the wedding long after it has finished.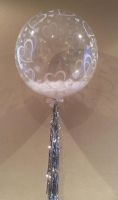 Every bride deserves a Hen's Night before her wedding. Feathers look so pretty in a deco bubble helium balloon. Personalising the balloon and adding a specialised balloon tassel with really make the Hen's Night one to remember.
Helium deco bubble balloons filled with confetti are extremely popular for a wedding centrepiece. Let Balloon Brilliance add some tassels and a bow to embellish your beautiful deco bubble. The confetti, bows and tassels come in a range of colours. Imagine a wedding reception with one of these beautiful helium balloon deco bubbles on each table. WOW!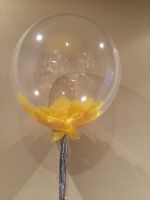 Wedding balloons can be made into a floor bouquet and attached to a weight. They are great to have at the entrance or around the room. Wedding balloon floor bouquets can contain a mix of latex balloons and foil star, heart or character balloons as well as deco bubble balloons.
A stand alone heart frame is perfect as a wedding or engagement photo backdrop. It can be decorated with balloons in all sorts of colours and can also be embellished with a lovely bow at the base of the heart.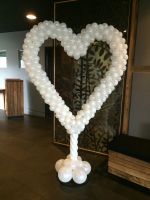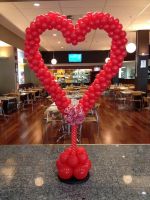 Giant, 3 foot or Jumbo balloons take on a totally different look when covered with tulle and embellished with a bow and/or silk flowers. The tulle will give a soft touch to your wedding when you choose this arrangement as your wedding table centrepiece.
Balloons covered with tulle can also be used in wedding photo shoots.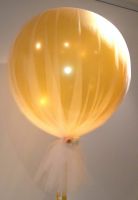 Latex balloons latex are made from 100% natural latex, not foil or plastic so they are biodegradable.